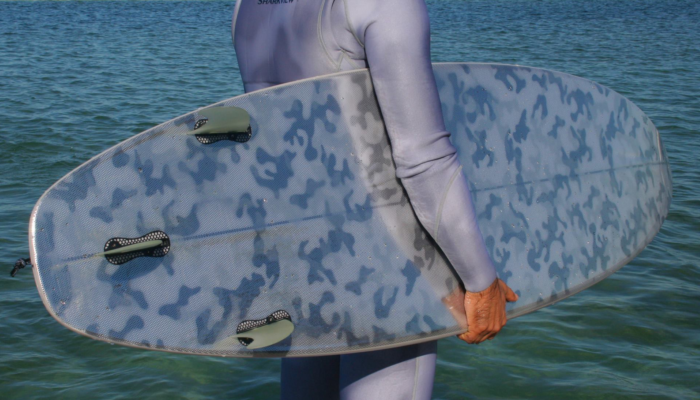 Sharkview is a place to discover the science and research behind the surfboards and wetsuits that have been designed to help protect people in the water. Sharkview main man Rob Carraro is happy to chat to any curious passers-by about his discoveries of using the shark's visual capabilities in wetsuit and surfboard design concepts. The team behind Sharkview is a group of divers, surfers and shark researchers. Together they have spent the last three years performing detailed scientific reviews, coordinating aerial surveys and conducting experiments with sharks in their natural habitat to gather an understanding of hunting strategies. They have taken this information and designed products with this in mind.
A variety of wetsuits, dualskins rashies and leggings for men, women and children are tested and designed to camouflage the individual in the ocean.
"Camouflage is everything - if we can avoid the encounter, we avoid the attack," Rob said.
Blending with the colour and pattern of the sea, these durable and flexible suits come in grey, blue or green, offering customers something different from the overcrowded black wetsuit market. The range available at Sharkview is due to increase with a new line of wetsuit designs coming soon.
And the team hasn't stopped there. Sharkview has created surfboard designs which copy the colour and texture of the water. By applying a patterned reflective film lining on the bottom of the board, the surfboard blends in with the reflection of the water. This, combined with one of Rob's wetsuits. will quite literally take the surfer out of shark view. Curious yet? Why not drop in and find out more.
For more details visit: sharkview.com.au
Open weekends, during events and on weekdays by appointment. Call or email Rob: