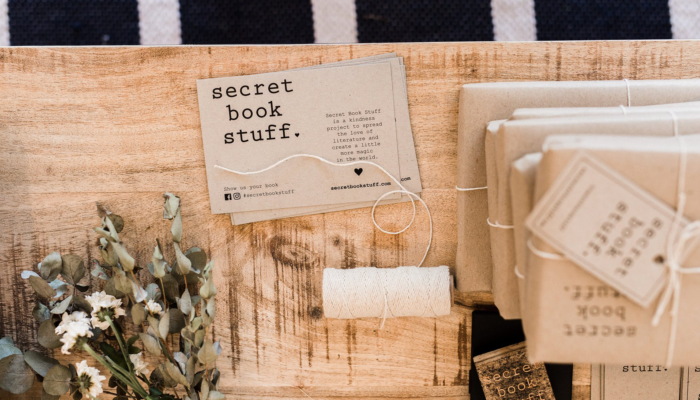 18 jun 2019
Secret Book Stuff
A little magic has just moved in at The Station in the form of a beautiful little businesses called Secret Book Stuff.
"Secret Book Stuff is all about spreading the love of literature and creating a little more magic in the world," said Amy and Laura who created this bookshop meets lending library.
Secret Book Stuff started as a random act of kindness project in June 2017, with the girls leaving pre-loved books wrapped in recycled materials around Newcastle. The books had handwritten notes for people to find and take home. The idea caught on quickly, and since then the girls have been partnering with a range of charities with a quest to keep the joy of reading alive.
At The Station, where Secret Book Stuff has landed, you can find a collection of 1000 carefully selected and curated pre-loved books for sale, including a huge collection of classics and vintage kids books (Laura's passion!) as well as award-winning fiction and local poetry collections (Amy's true love!). All the profits made at the shop go towards funding Amy and Laura's 'Books 4 Outback' volunteer trips to remote communities – a charitable initiative that helps get books into the hands of people who really need them.
Outside the shop is a huge free lending library book exchange, where you can take a book and leave a book in its place. Or pick a book and get cosy on the comfy couches and stay a while. These girls also run a book-finding service, so if you're searching for specific or a hard-to-find title make sure to drop in and try your luck.
Coming up at Secret Book Stuff are poetry nights, kids 'Storytime and Craft' (partnering with the neighbours at MakeSpace), author Q&A and book signings, and heaps more. Novocastrians are also welcome to join Amy and Laura for a 'Wrap and Snack' evening, to help wrap books to be donated to the 'Books 4 Outback' schools. "We'll provide the grazing platter of nibbles, and you bring the good vibes", said the girls.
"Secret Book Stuff is all about reading, kindness, and sustainability, and we're so excited to welcome the community into our wonderful, magical little corner of the world", the girls concluded.
Find out more here:
Opening hours:
Wednesday - Friday: 10am – 5pm
Saturday- Sunday: 10am – 4pm