COVID-19
Play safe at The Station


We are committed to providing a safe and fun space for the community to enjoy, and will continue to adapt in line with NSW Government Advice to best manage public safety. The Station operates with a COVID Safe plan in place, and we ask that all visitors adhere strictly with Public Health Orders to keep our community safe.
Currently, events and shopping at The Station are on hold for lockdown, while The Station's outdoor community spaces remain open. Keep an eye on Perry The Feeder's Facebook Page for latest café updates and trading changes; and follow our retailers to continue supporting our Station creatives.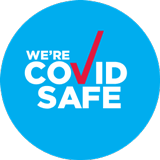 Visitors are asked to 'check in' via the QR code when visiting The Station and always maintain safe physical distancing and good hygiene. Please use the sanitiser stations and bins provided, and if you are feeling unwell or displaying symptoms, please stay at home.
Checking in at The Station


It's easy:
1. Scan the QR Code using the camera on your phone
2. 'Service NSW App' will open to confirm your details
3. Click 'check in'

We respect your privacy.
When you scan the QR code to 'check in' at The Station, the only personal information sent to Service NSW is your Customer ID, The Station's location, time and the date of your visit. We will not see or collect this information, and it will only be used for contact tracing. Service NSW only keeps this information for 28 days unless required for contact tracing related to a COVID-19 hotspot. Please refer to the collection notice in the app for more information.

Stay informed about COVID-19
We recommend following NSW Government for current COVID-19 updates, and the latest community health and safety advice.